Dragon Digest Issue 9: November 2, 2017
Volunteer Roundup | PTA News  | School News  | Upcoming Events

Fundraising The fundraising campaign concluded with a total of $256,046 raised for our kids! This GENEROUS amount was contributed by 95% of our school community. Thank you!

Our entire school is getting a popcorn party to celebrate this amazing response!

The Cascadia PTA is grateful and encouraged. Almost every member of our community contributed their support – their "piece of the puzzle" – and made this campaign a resounding success. Thanks to your support:

A counselor is now available to our kids. Joined with tutors, resource specialists and a librarian assistant, your donations will meet the needs of our student body.

Extracurricular activities to engage each student's whole self can continue as planned. From music and art, to gardening and Shakespeare, PTA funding is critical to realize the actualization of these programs.

The Cascadia PTA is grateful for your willingness to come together and start this year off with a bang. Thank you for your support, and for the support of our teachers and principal in creating a successful school year.

Box Tops For Education

Thank you for all the BoxTops that you have collected and brought in to the office!
The collection box is in the corner to the left as you enter office.
The money collected through BoxTops is deposited into our school's Self Help Fund; money from this fund pays for things teachers need, staff room supplies, field trip scholarships, and other small special needs beyond the regular budgets.

Learn more about the program: http://www.boxtops4education.com/about including how you can get coupons and upload receipts to contribute.

If you have any questions or would like to help, please contact parent coordinator, Tyra Sorensen twosolvej at gmail.com

Box Tops collection is a parent volunteer effort and separate from PTA fundraising, who we appreciate for all they do!
---
Volunteer Round-Up:
Attention volunteers! We're using Sign-up Genius for these, and you should see tabs to easily switch to all current sign-up sheets from this page.
Current Needs:
Recess Reading:Each teacher has two blue Recess Reading passes that she or he can issue for Thursday or Friday lunch recess to allow students to read their own books they bring along in the cozy couch area in the middle of the library, but they need supervision. This is quick and easy job—bring your own book to read, too.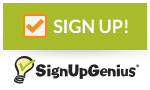 Recess Unicycling (MoTuThFr)
Whether once a week, once every two weeks, or less frequently, we would love to have you sign up,
10:30-11:30 am
.
The sign-ups are being constantly updated.  Check out the volunteer page.
School News:
---
Candy Challenge
Once again our PE teachers Mrs. Briones and Ms. Sayles will be running a "candy challenge" program. Students can bring in candy they collect from November 1st through the 3rd. [Read More]