Visit this page for information and opportunities within Cascadia's larger community!
---
WHAT : Participate in hands-on activities and visit research labs to find out what computing is all about! Students and faculty from UW's computing majors will introduce you to the broad range of problems computing can address. Representatives from local technology companies will show cool demos and tell you why they love their jobs.

WHO : Middle and high school students and their families.

WHEN : 1pm – 5pm on Saturday, December 1st, 2018

WHERE : UW Paul Allen Center for Computer Science & Engineering (free parking after noon on Saturdays!)

WHY: Celebrate Grace Hopper's birthday and the start of Computer Science Education Week.

RSVP so that we get enough giveaways!
See last year's pictures and program.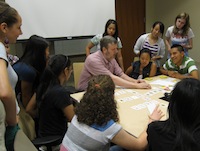 To request disability accommodation, contact the Disability Services Office at: 206.543.6450 (voice), 206.543.6452 (TTY), 206.685.7264 (fax), or email at dso@u.washington.edu. The University of Washington makes every effort to honor disability accommodation requests. Requests can be responded to most effectively if received as far in advance of the event as possible, preferably at least 10 days.
---
Philosophy for Kids
Join us on Sunday, December 2nd  from 2:00-4:00 pm
at Whittier Elementary School in Ballard
1320 NW 75th St. Seattle, WA 98117
We are delighted to invite you to our first parent event in Ballard! Facilitators from the Center are working in seven classrooms at Whittier and five classrooms at West Woodland Elementary school as well as in numerous other public-school classrooms throughout the city.
The parent events are fun, low-key gatherings where we facilitate a philosophical discussion with adults and children all thinking together as a community of inquiry. Parents are welcomed and encouraged to bring children to the event. We will serve snacks and light refreshments.
With these events, we aim to introduce philosophy for children to families, give parents an opportunity to experience what their children do in philosophy sessions at school, and demonstrate how to integrate philosophical inquiry into discussions at home.
Please join us for what promises to be a lovely afternoon of thinking, discussing, and questioning.
---
Screening of Angst
Angst is an independent documentary film about kids dealing with anxiety. In the film, they interview kids who struggle with anxiety and their families. They also talk about some possible root causes of anxiety, and how it affects the brain. The Whitman PTSA cordially invites our school community to a screening of "Angst"
Location: Whitman Middle School's auditorium
Date: January 23rd
Although the film is appropriate for ages 11+, we ask that only adults attend. The event is free, however, a ticket is required for entry. Please use the ticket registration link provided to secure your entry into the screening. The PTSA will be accepting donations at the event to offset the cost of the movie. We plan to have an informal discussion after the screening.
Please visit https://angstmovie.com for more information and screening dates and locations.  There are many upcoming dates in Seattle.
---
Greetings all,
It's time to sign-up for boy's lacrosse! Lacrosse is one of the fastest growing sports in America, and Seattle. Lax is great at a young age. We work on hand eye coordination and we do lots of running (we start practice with a 400m) and strength building, we do push-ups every day.
Sign-up is now open for 2019 Spring lax for 3rd grade up to 8th grade. We put the 3rd and 4th graders together on one team, then have another team of 5th and 6th boys. Finally we put 7th and 8th graders together too. FYI we do encourage older boys to start even in 7th or 8th grade too so if you have older brothers who are tired of soccer/baseball it's never too late to try something new!
Practices start in February and are twice a week at Loyal Heights Playfield or Whitman Middle School. Games begin in March on Saturdays. Kindergarten – 2nd graders can register for Props Academy which starts in April. The Academy runs weekly clinics on Sundays to introduce kids to the game of lacrosse. For more information, please visit the club page – http://www.propslacrosse.org/
If you have any questions about lacrosse please feel free to reach out to me directly or submit an inquiry via our website.
Cheers!
Marcos Dachary (coach and father of a 4th grader at Greenwood Elementary)
madachary@hotmail.com
---
Kaleidoscope Dance Company's
Sunday, December 2 –  3:30pm
Adults: $12/Youth: $7
Silent Auction/Concession Sales begin at 3:00pm 
Shorewood Performing Arts Center
17300 Fremont Ave. N
Shoreline, WA
Join Kaleidoscope Dance Company Sunday, December 2 as they present the Gift of Dance; an afternoon of original modern dance works, choreographed by youth ages 6-17, inspired by world proverbs. Mosaic Junior Company also performs.
For more details about the Dec. 2nd performance and bringing Kaleidoscope to your school, please visit: